Before and After Dental Treatment
Before and After Treatment
Incredible results and inspiring journeys – see some of our patients' before and after photos next time you visit our practice within the Tri-State area of Florence, Kentucky.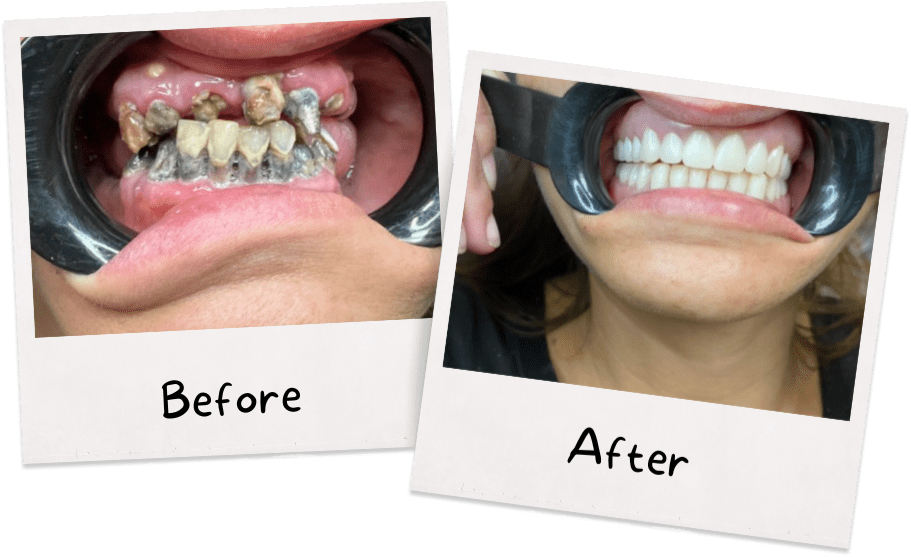 Dental Extractions and Partials
This dental patient arrived at DCOF and told our team she always hated her smile. She had congenitally missing laterals which created a huge gap in the front. After dental treatment involving dental extractions, she will never hide her smile again.
This patient had previously experienced difficulty wearing a traditional denture. Dental implants were placed and the patient was very pleased with the increased stability of the denture. After this dental treatment from Dental Center of Florence, they no longer needed to use denture adhesives.
This patient obviously had extensive decay and was not confident in showing her teeth. She came into our dental office in the morning and was able to leave at the end of the day with a beautiful new smile. She also took advantage of sedation dentistry, and was comfortable all throughout her dental treatment.
This college age patient had an unfortunate accident at a party. Our dental team was able to see him the next morning and restore his beautiful smile in about an hour with tooth-colored filling material.
Unfortunately this dental patient could not afford to restore his teeth with root canals, dental crowns and fillings. Instead, he chose to extract his upper teeth and replace with an upper denture on the same day.
This veteran received a free smile makeover from Dental Center of Florence. His remaining upper teeth were extracted and replaced with a denture while his lower teeth were restored with dental fillings and a partial denture. This dental treatment occurred over several visits and he was very pleased with his new smile.